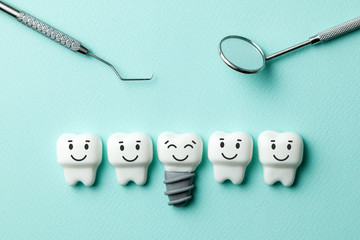 Tooth loss is a problem that affects millions of Americans throughout the United States. However, losing a tooth doesn't mean that you need to go the rest of your life with an unsightly gap in your smile. There are several tooth replacement options out there, with dental implants being a preferred method due to their numerous benefits. In order to make a well-informed decision on the future of your smile, you should know the following dental implant terms.
Abutment
This is the "connector" that your dentist will build into or attach to the top of your dental implant. This serves as the attachment for the replacement tooth, crown, or bridge and keeps it firmly in place. An abutment tooth refers to the tooth that supports a bridge or partial denture.
Ceramic
This material is commonly used to create the replacement teeth that are placed on the end of dental implants. It's made from a special type of clay that is hardened by heat. This is a great material because it looks just like natural tooth structure.
Crown
A crown is used to replace a single tooth that's been damaged, broken, or lost. They typically fit over an existing tooth. As for dental implants, they are attached to the abutment to become perfectly grounded and stable.
Dentures
Dentures are a traditional way to replace missing teeth. However, there are a few types of dentures out there, including dental implant dentures. Instead of being held in by the natural suction of your mouth, they're supported by dental implants. This allows for additional longevity and stability compared to traditional dentures.
Endosteal Implant
This is the most common type of dental implant that's available. After thorough planning, the implant is placed directly into the jawbone during a surgical procedure. Each implant will hold one or more replacement teeth.
Eposteal Implant
Instead of being placed in the jawbone, eposteal implants are supported by resting on the jawbone. This isn't a very common option anymore, but it may still be suggested for patients who are at high risk of bone resorption.
Osseointegration
This is the process where the dental implant fuses with the jawbone. It increases the strength of both the living bone and the load-bearing implant. This term comes from Greek and Latin words meaning "bone" and "to make whole."
Dental implants are lifechanging for people who are missing teeth, so it pays to be informed. Now, you will understand these words throughout the process of restoring your smile!
About the Author
Dr. Dorian Tetelman is an experienced dentist who has been working in the field for over 25 years. He earned his Doctor of Dental Surgery degree from New York University (NYU) College of Dentistry and attends many continuing education seminars each year. He has additional training in Lumineers, CEREC, laser dentistry, and dental implants. For more information on dental implants or to schedule a consultation at his office in New York, visit his website or call (212) 319-0090.