Dental Implant Supported Tooth Replacement for Lenox Hill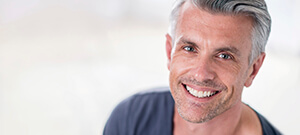 Traditional tooth replacement options restore only those parts of the teeth above the gum line. While this is essential to maintaining the natural shape and structure of the smile and restoring patients' confidence, replacing the underlying root structure is just as important to maintaining the optimal level of oral health. That's why we frequently recommend dental implant supported tooth replacement. Dental implants are small, titanium posts that mimic the form and function of tooth roots offering superior stability for any number of replacement teeth from a single tooth to a full arch. Contact our skilled team to find out more or schedule a dental implant consultation today.
Dental Implant Placement
Dental implant supported tooth replacement is completed in two phases. The first phase of treatment is the surgical placement of one or more dental implants below the gum line. The procedure itself is relatively straight forward. We make a small incision in the gum line where the implant is to be placed, insert and position the post, and then we place a protective covering over the implant site. Over the course of three to six months, the dental implant fuses with the supportive alveolar bone a process referred to as osseointegration. Once the implant is fused with the jawbone, patients return to our office to have the dental restoration attached to the implant post.
Implant Retained Crowns & Bridges
Patients missing between one and four consecutive teeth are typically provided a dental crown or fixed bridge restoration. For individual missing teeth, we place one dental implant and attach a custom crown. For two consecutive missing teeth, we connect two replacement teeth to a single implant post. For patients missing three or four consecutive teeth, we use two dental implant posts to anchor a three or four tooth dental bridge.
Implant Retained Prosthetics
Patients with more extensive tooth loss should consider a dental implant supported partial or full denture. Partials are used to replace any number of missing teeth along a single arch, and full dentures restore an entire row of teeth. The number of implants needed to support a partial varies based on the number and location of missing teeth, but our goal is to use the minimum number of implants while providing the optimal level of support. Full dentures are typically attached to between six and eight dental implant posts. We offer both fixed and removable dentures according to patient preference.