Restorative Dentistry – Lenox Hill, NY
Smile Repair on the Upper East Side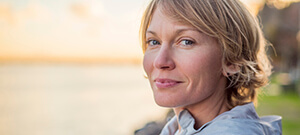 While Dorian Tetelman, DDS and his dedicated Manhattan dental team work hard to ensure patients keep their smiles whole and healthy for life, this may not always be possible. When patients experience dental decay or damage, Dr. Tetelman has years of experience and advanced training offering the most comprehensive treatment options. We utilize the latest dental techniques and technologies all in our comfortable, welcoming dental office. Contact us to find out more or schedule an appointment today for quality restorative dentistry in Lenox Hill, NY.
Traditional Dental Crowns & Fixed Bridges
Dental crowns are the most commonly used dental restorations. These versatile restorative treatments offer patients complete repair of decayed or damaged smiles by placing a restoration over the entire damaged tooth. We use a variety of materials to craft our custom dental crowns including:
Gold Dental Crowns
Gold Crowns are still one of the most effective treatment options for those patients looking to repair back teeth, gold crowns are the most durable and cause the least amount of wear to surrounding teeth. However, the unnatural appearance of gold crowns makes them a less desirable option for front facing teeth.
Porcelain Bonded to Metal
This restoration material has a more natural appearance than gold or other pure metal options, but the porcelain leads to additional wear to the enamel of surrounding teeth. As the porcelain wears away, the darker colored metal is visible below. Additionally, porcelain bonded to metal restorations are not good options for those patients with allergies or sensitivity to metal.
All Ceramic Dental Crowns
These restorations offer the most cosmetically advanced solution and provide safe, effective restoration for those patients with metal allergies. However, all ceramic restorations also cause the greatest amount of wear to surrounding teeth.
Zirconia Dental Crowns
These materials offer a cosmetic solution that doesn't lead to additional enamel wear and allows patients with metal allergies to be safely treated. While zirconia cannot be shaded to match teeth as closely as porcelain or ceramic, this may still be a viable option for front teeth depending on how closely we can match the coloring.
Dental crowns are recommended to treat a number of oral health concerns including tooth decay or damage that affects more than half of the tooth, to protect root canal treated teeth, attached to healthy teeth to support a fixed bridge, and connected to a dental implant for single tooth replacement. Whatever the reason for dental crown restoration or material selected, our skilled dentist and team offer effective, comfortable restoration.
Tooth-Colored Fillings
Those patients with less severe damage may need a filling. Fillings were traditionally crafted from metal amalgam, but in recent years, many dental offices have moved away from this material due to its unappealing appearance and potential for future failure. Instead, most dental practitioners now use composite resin, tooth colored fillings. This filling material not only more closely matches the natural coloring of teeth, but as it is applied directly to the damaged tooth, it also aligns with the natural structure of teeth filling in even small pits and cracks.
Learn More About Tooth-Colored Fillings
CEREC® Same Day Dental Crowns
Traditionally, patients in need of dental crown, bridge, inlay, or onlay restorations needed to plan for at least two trips to our dental office that could occur weeks or even months apart. During the initial visit, we prepared the damaged tooth, captured impressions used by our lab to craft a custom crown, and placed a temporary restoration to protect the prepared tooth. Once the final restoration was received from the lab, patients returned to exchange the temporary for the custom restoration. At our dental office conveniently located two blocks from Central Park, we are pleased to offer one visit dental restorations using the state of the art CEREC® system. CEREC® allows us to prepare the tooth, capture more precise digital impressions, craft a restoration, and place the treatment solution in just one appointment.
Root Canal Therapy
The phrase root canal often leads patients to feel anxious, but while root canal therapy has a bad reputation, the treatment itself is quite comfortable. However, the infection that leads to root canals is extremely painful. Teeth have three layers. The hard outer layer is called enamel. The middle layer is dentin, and the soft inner layer is pulp. The entire nerve system of the tooth is housed within the dental pulp. When decay or damage reaches this inner layer, the result is a severe toothache, sensitivity to temperature changes, and dental discoloration. Root canal therapy allows Dr. Tetelman to remove the damaged and irritated pulp and nerve tissue and replace it with biocompatible materials saving the tooth. In most cases, we finalize the procedure by placing a dental crown over the treated tooth in order to protect and fortify the potentially weakened dental structure.
Tooth Extractions
Typically, we try to help patients keep their natural teeth, but in some cases, extraction is actually the best option to ensure patients' overall oral health remains intact. For these patients, we're happy to offer comfortable, effective tooth extraction and replacement options. The most frequently extracted teeth are the third molars, wisdom teeth, which are the last to erupt in patients' smiles as there is frequently inadequate space for these final teeth in the natural jawline.