Invisalign – Lenox Hill, NY
The Discreet Way To a Better Smile
Everyone should have a smile they feel good about, but the road to get there doesn't have to include discomfort or embarrassment. In the past, many people avoided orthodontic treatment because they didn't want to spend years in metal braces. Now, Invisalign offers you a way to enjoy all the benefits of a straight smile without the hassle of traditional orthodontic treatment. Our team of experienced dentists has used Invisalign in Lenox Hill to help countless patients get the smile they've always wanted. If you'd like to know how Invisalign could benefit you, contact us today to schedule a consultation!
How Does Invisalign Work?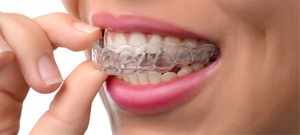 After you've had a consultation to make sure that Invisalign is right for you, we'll take images and digital impressions, which are much easier and more accurate than putty impressions. With this information, we can give you an estimate of how long your treatment will take and how many aligner sets you'll need, and even show you virtual results before getting started.
Then, we'll send everything to the Invisalign lab where your aligners will be made. It usually takes about 3 weeks for us to receive them, at which point you'll come in to pick up your first set of trays. At this visit, we'll put small, temporary attachments on your teeth (made from tooth-colored material) that will anchor your trays and give them something to "grab" onto.
Next, you'll try in your first pair of aligners and we'll go over all the instructions for wearing and maintaining them. You'll wear each pair of trays at least 22 hours per day and move to your next set about every 2 weeks until you get your final results. Throughout your treatment, you'll come back about every 4-6 weeks for progress visits and to pick up additional trays.
What are the Benefits of Invisalign?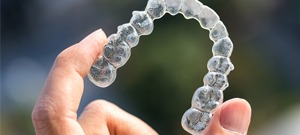 As a cosmetic dentist in Lenox Hill, we know how much our patients love having an invisible way of straightening their teeth. But you'll enjoy many additional benefits as well:
Treatment time – In many cases, Invisalign is faster than traditional braces (the average is 9-18 months, as opposed to 12-24 months for metal braces).
Freedom – Although you must wear your trays for 22 hours per day, you have the freedom to remove them for special events such as weddings.
Comfort – Invisalign aligner trays are smooth and comfortable and won't irritate your lips and cheeks.
Cleaner teeth and gums – Since you'll simply remove your trays before brushing and flossing, it will be easier to keep everything clean and looking great.
Who Is a Good Candidate?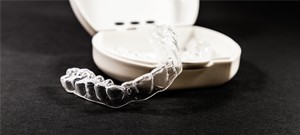 Another advantage of Invisalign is that it works for so many different bite alignment problems, including crowding, gaps, overbites, underbites, and more. Having said that, we always have your best interests in mind, so if you have a particularly severe case we may recommend traditional braces to make sure you get the best results.
How Much Does Invisalign Cost?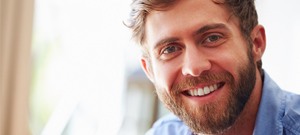 This depends on how many sets of aligners you'll need to correct your smile. The best way to get an individual estimate is a consultation. And, since some insurance plans pay for a portion of Invisalign treatment, we can help you review your benefits as well. For uninsured patients, we offer CareCredit, a third-party financing company that allows you to make low or no-interest monthly payments.
One thing is certain: Achieving a healthy, beautiful smile with Invisalign is an investment that will pay off for life!