Preventive Dentistry – Lenox Hill, NY
Maintain Healthy, Beautiful Smiles for Life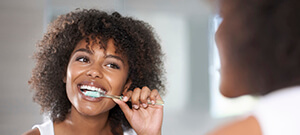 Keeping your smile whole and healthy is much easier than repairing a damaged smile, and in the long run, preventing dental damage is better for oral and overall health. That's why Dorian Tetelman, DDS and his dedicated dentistry team focus on preventive dentistry services to keep patients' smiles whole and healthy for a lifetime. We recommend patients visit us at least two times each year for dental checkups and teeth cleanings. Contact our dedicated team to find out more or schedule your checkup for preventive dentistry in Lenox Hill, NY today.
Dental Checkups & Dental Cleanings
The American Dental Association recommends patients visit the dentist at least twice a year. Dr. Tetelman and his team work to not only meet but exceed the standard of dental care put in place by the ADA. For decades, patients sought out dental care as a reaction to pain or damage, but during World War I, a team of dental experts determined that the best way to keep smiles whole and healthy was to visit the dentist regularly for preventive dentistry treatments. At our Upper East Side dental office, we offer comprehensive preventive checkups comprised of four main parts:
Diagnostics – We use state of the art intraoral photography, digital x-rays, and CT ConeBeam scans to develop a clear picture of the internal and external structures of patients' smiles and how they work together
Examinations – Our dentist carefully examines every aspect of patients' smiles screening for signs of common oral health concerns including tooth decay, gum disease, temporomandibular joint dysfunction (TMD), bruxism (teeth grinding and clenching), and oral cancer
Cleanings – Our hygienists are knowledgeable and skilled and take the time to carefully remove plaque and tartar buildup from every surface of patients' teeth
Consultations – Finally, Dr. Tetelman sits down face to face with patients to discuss their ongoing dental health care in our dental office and at home, answer questions, and create a personalized treatment plan that meets patients' unique needs
These comprehensive dental checkups make it possible for more patients every year to prevent major oral health issues and keep their naturally healthy teeth for a lifetime. In the years since regular dental checkups have become the standard for care, fewer patients have needed tooth replacement options like full and partial dentures. In the past, dentures were such a common occurrence that many patients simply assumed these would be required at some point, but each year, we see the percentage of adults who need dentures shrinking thanks to regular preventive dental checkups.
Dental Sealants
Sealants create a thin layer of plastic over teeth that seals out bacteria, plaque, and tartar protecting smiles from decay. We are able to quickly and painlessly apply dental sealants as part of any six month dental checkup. We paint the liquid sealant onto the surfaces of teeth, harden them into position, and patients' teeth are protected for years. Dental sealants are typically recommended for younger patients who are just developing their oral hygiene routines, but we recommend dental sealants for adults who experience frequent tooth decay.
Oral Cancer Screening
We recommend oral cancer screenings as part of dental checkups for all patients. Many of our patients believe that oral cancer screenings are unnecessary if they are nonsmokers, but even those patients who don't use tobacco products are at risk for oral cancer. According to the Oral Cancer Foundation, the best way to decrease the number of annual deaths attributed to oral cancer is to screen for the disease regularly. Dr. Tetelman has advanced training and years of experience screening for oral cancer and completes a thorough evaluation of oral and facial structures during each appointment.
Oral Hygiene Treatments
We are happy to help patients care for their smiles with checkups and cleanings every six months as well as other preventive services like fluoride treatments. The other 363 days of the year, oral hygiene is up to the patients. Dr. Tetelman and our knowledgeable dental hygienists offer guidance for proper tooth brushing and flossing techniques as well as recommendations to ensure patients are using the right toothpastes, mouthwashes, and other oral hygiene products to keep their smiles healthy.