CEREC Same-Day Dental Crowns – Lenox Hill, NY
Quickly Repair Your Smile in One Visit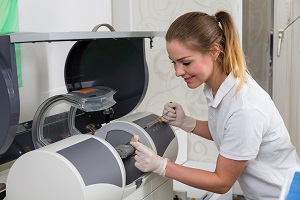 In most cases, patients who need to repair their smiles with advanced dental restorations like crowns and bridges would need to visit our dental office for at least two treatment visits. At the Manhattan dental office of Dorian Tetelman, DDS, we offer a simple, same day solution using the state-of-the-art CEREC system. If you're looking to repair a damaged tooth to a fully functioning, flawless smile, contact our dental office to schedule a consultation with our team. You'll simply walk in with a damaged tooth and leave with a picture-perfect smile thanks to CEREC same-day dental crowns in our Lenox Hill, NY dental office.
What is CEREC?
CEREC literally stands for chairside economical restoration of esthetic ceramics. That's quite a mouthful, but simply put, it's a computer-based design and restoration creation system that allows the dentist to complete the entire restoration process in a single appointment. Using the fully integrated CEREC system, we can quickly and easily prepare your smile, design the restoration, craft your crown or bridge, and flawlessly repair your smile.
How the CEREC Process Works
Like traditional dental crown restoration, the process begins with our team gently numbing the area to be treated. Then, we remove a small amount of healthy tooth structure to allow the crown to fit over the top of the tooth without impacting the natural smile line. Next, we use a handheld, digital impression tool to precisely capture the shape of your remaining tooth structure. This digital impression is then sent to our chairside computer monitor. We use specialized software to design a dental restoration that will be perfectly fitted to your bite. The digital design is then sent to an in-office milling unit where a block of tooth-colored ceramic is milled into your flawless crown. Finally, we'll place the dental crown, make any necessary adjustments, and smooth and polish the crown, leaving you with a perfect smile.
What are the Benefits of CEREC Same-Day Dental Crowns?
If you're considering dental restoration with CEREC same day crowns, you can expect numerous benefits including:
No need to schedule multiple treatment appointments
No need to place and remove a temporary crown, which may cause unintentional damage
The CEREC system uses high-quality porcelain that looks just like flawless, natural tooth enamel
Long-lasting porcelain is stain resistant, so your smile will look perfect for years to come
The fully integrated system means our precise design will be perfectly transferred from our chairside design software to the in-office milling unit
We can immediately make adjustments to the restoration, so you will never have to schedule further treatment visits to have the perfect dental crown
How to Care for Your CEREC Dental Crowns
Once in place, your CEREC dental crown can be cared for in much the same way a traditional crown or your natural teeth are cleaned. You'll need to brush twice a day, floss daily, and visit our New York City dental office at least two times each year. The only changes you may need to make are switching the type of toothbrush and kind of toothpaste you use. Porcelain is not as strong as healthy tooth enamel, so you'll need to use a soft or ultra soft-bristled toothbrush combined with minimally abrasive toothpaste to avoid causing the crown to wear down too quickly.