Cosmetic Dentistry – Lenox Hill, NY
Dazzle with Your Beautiful New Smile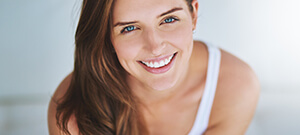 Improving the appearance of patients' smiles may not seem like a priority, but research has revealed that the way patients' smiles look may actually impact their personal and professional lives. A recent employment study revealed that people with attractive smiles were more likely to be promoted or get a new job, and an online poll revealed that people perceive those with unattractive smiles as being less intelligent, healthy, and clean. If smiles have such a profound impact on the way we're perceived, it's important to have the healthiest, most attractive smile possible. That's where cosmetic dentistry in Lenox Hill, NY from Dorian Tetelman, DDS and his dedicated dentistry team comes in. We offer a variety of treatments to brighten, straighten, and perfect smiles. Contact us to find out more or schedule a cosmetic dentistry consultation today.
Metal-Free Dental Restorations
Patients looking for a more cosmetic solution for repairing damaged teeth may want to consider metal-free dental restorations. These treatments blur the line between restorative and cosmetic dentistry by providing a complete renewal of the appearance, form, and function of damaged or decayed teeth. In addition to looking great, metal-free restorations are also the best solution for those patients who suffer from a metal allergy or sensitivity. We offer all-ceramic and zirconia crowns, bridges, and other restorations.
Cosmetic Dental Bonding
Easily the quickest, most comfortable, and affordable cosmetic dentistry service we offer, cosmetic bonding is completed in just one appointment with little to no impact on natural dental structure. In fact, most patients don't even need local anesthesia during their procedure. We use the same tooth-colored, composite resin material we use for fillings to correct or conceal any number of cosmetic flaws including chips, cracks, gaps, and stains. This fast, effective procedure is frequently recommended for our cosmetic dentistry patients who want to repair a number of cosmetic flaws.
Teeth Whitening
Teeth whitening has always been one of the most popular cosmetic dentistry solutions available, but in recent years, teeth whitening products have flooded the market. Patients come to us lamenting wasted time and money invested in store bought teeth whitening products that don't deliver on their smile brightening promises. We offer professional in office and take home whitening using the Zoom! system. These professional whitening products deliver predictable results up to ten shades brighter for most patients.
Gum Recontouring & Crown Lengthening
In some cases, patients find the thing they dislike about their smile isn't their teeth at all but their gums. In cases of "gummy" smile, we remove a small amount of soft tissue and reshape the gum line making teeth appear more even and less stubby. We may also perform a similar procedure prior to placing a dental crown. Typically referred to as crown lengthening, this treatment is the reshaping of a specific area of gum tissue to reveal enough healthy tooth structure to support a dental crown restoration.
Digital Imaging & Virtual Smile Design
Many patients who visit us know they're unhappy with how their teeth look, but they just don't know how to improve the overall appearance of their smile. That's where digital imaging and virtual smile design comes into play. We are able to take photos of patients' teeth and use computer software to manipulate the images showing patients what their smile would look like following various procedures. Patients can take copies of these images home to share with family and friends before making any treatment decisions.
Invisalign®
Gone are the days when the only way to straighten your teeth was metal brackets and wires. Today, we have Invisalign, a far more comfortable, discreet option that delivers the same great results as traditional braces. This orthodontic treatment can be used for a wide range of mild to moderate bite alignment issues, including overbites, underbites, gaps, crowding, and more. Achieving a straight, beautiful smile has never been so easy.