Gum Disease Treatment – Lenox Hill, NY
Periodontal Therapy to Restore Oral Health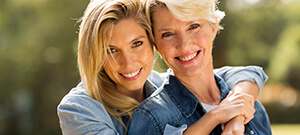 Periodontal (gum) disease effects more than 50% of adults over the age of 30, and has been linked to a number of chronic and systemic illnesses including diabetes and heart disease. In the early stages, gingivitis, gum disease is easily treated with more frequent professional teeth cleanings, but as the disease advances, it leads to detrimental oral health effects. The most advanced form of gum disease, periodontitis, is the leading cause of tooth loss among US adults over the age of 35. At the Manhattan dental office of Dorian Tetelman, DDS , we offer a number of effective options for gum disease treatment for Lenox Hill, NY dentistry patients any stage of periodontal disease. Contact our team to find out more about periodontal therapy or schedule your appointment today.
Scaling & Root Planing
The most commonly recommended treatments for advanced periodontal disease are scaling and root planing. Scaling is the systematic removal of plaque and tartar buildup and damaged tissue below the gum line, and root planing is the smoothing of tooth roots to remove areas where buildup would typically occur preventing future accumulation of plaque and tartar. These treatments are typically completed using scraping tools to remove buildup and smooth the roots, and many patients also need stitches in order to safely and effectively reattach healthy gum tissue.
Antibiotic Therapy
Bacteria that live in the mouth absorb nutrients from the foods we eat and excrete a sticky, acidic waste product commonly referred to as plaque. Over time, plaque can harden forming tartar. In order to reduce the risk for plaque and tartar buildup at the gum line, topical antibiotics are applied to prevent the growth and accumulation of bacteria which reduces patients' risk for reinfection or spread of periodontal disease.