Advanced Dental Services & Technology – Lenox Hill, NY
State-of-the-Art Dentistry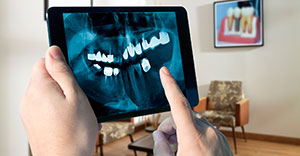 Dental technology makes even the most advanced dentistry services quicker, more comfortable, and more effective for patients. Dorian Tetelman, DDS and his skilled dentistry team in New York City are dedicated to utilizing the most advanced dental techniques and technologies in order to ensure they offer treatments that exceed even the highest expectations and allow patients to receive the care they need in one convenient location. Contact our dedicated dentist and team to find out more or schedule an appointment today to experience advanced dental services and technology in Lenox Hill, NY.
Intraoral Cameras
Intraoral photography has had a profound impact on the way we interact with patients. Seeing these detailed images of their smiles makes it possible for patients to fully partner in their treatment planning because they are able to see their smiles from the dentist's perspective allowing for a better understanding of areas for concern and possible treatment options. We use the Sopro line of intraoral cameras that offer the highest quality images for our patients as well as the quickest and most comfortable image capture for our team.
Digital X-Rays
High definition images of the inner workings of patients' smiles allow our dentist and team to diagnose oral health concerns in their earliest stages and provide the most conservative treatment options allowing patients to keep their smiles whole and healthy for life. Digital x-rays are not only higher definition scans than traditional x-rays they are also safer for patients exposing them to less radiation. Unlike traditional x-rays that take time to capture and develop and have to be physically transported to specialists and stored in our dental office, digital x-rays are saved in small, easily transferred computer files.
CT ConeBeam Scanner
For more advanced treatment planning such as dental implant placement surgery, we use a CT ConeBeam scanner to capture a panoramic view of patients' smiles to see how the teeth fit together and how restoration options fit into their bite. We also recommend patients receive comprehensive, panoramic x-rays using our ConeBeam scanner every three to five years in order to ensure early diagnosis of developmental, orthodontic, or more advanced dental concerns.
Digital Impression System
Traditional bite impressions require patients to bite into a clay or putty-like substance that will capture the shape of the patients' teeth. These impressions are not always 100% accurate as they don't typically capture small cracks and pits in the biting surfaces of teeth. Digital impressions are more quickly and easily captured, and they produce more accurate representations of patients' smiles. We use the CEREC® system to capture digital impressions that can be sent to our in-office milling unit or a trusted dental lab.
Cavity Detection System
Digital x-rays allow our team to recognize and begin treating cavities in earlier stages, but our cavity detection system allows us to find areas where tooth decay is more likely. A laser is used to find those parts of the tooth that are weaker, and we can use a number of preventive treatments like dental sealants or fluoride treatments to help patients avoid tooth decay. Additionally, the cavity detection system is able to more easily find tooth decay in difficult to access parts of patients' smiles between teeth.