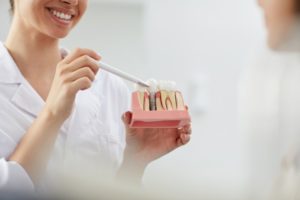 Everyone wants a full set of pearly whites, but unfortunately, tooth loss can still happen to the best of us. There are plenty of ways to replace missing teeth these days, but dental implants are the only option that looks and feels just like your real teeth. In this way, dental implants can truly change your life! If you're ready to learn more, the first step in the process is scheduling an appointment with your implant dentist. Here's a basic idea of what you can expect at a dental implant consultation.
Conducting a Visual Examination
First, your dentist will want to get an idea of the state of your oral health. They'll start by thoroughly looking over your gums and remaining teeth with their highly trained eyes. Then, they can start determining whether you're a good candidate for dental implants.
Taking X-Rays
Dental implant posts must be surgically placed in your jawbone. In order for the implants to be successful, you should have enough healthy jawbone structure to support the posts. To find out how dense your jawbone is, your dentist will take X-rays and computer tomography (CT) scans of your mouth and jaw. If your jawbone can't support implants at the moment, your dentist may recommend a bone grafting procedure to strengthen the area before surgery.
Discussing Your Treatment Options
After sharing their findings with you, your dentist will explain your treatment options and whether you're eligible for dental implants. Even if you're not initially, you can often become a good candidate by undergoing one or more preliminary procedures like bone grafting or periodontal therapy. If you have any questions about the dental implant process, now would be the time to ask!
Going Over Your Treatment Plan
Once you've confirmed that you want to move forward with dental implants, your dentist will develop a personalized treatment plan. They'll walk you through the different steps, which may include:
An estimated timeline
The number of appointments necessary
Anesthesia and sedation options
Recovery and aftercare
Financial information
Getting dental implants is a major decision, and you should be well-informed and confident about your decision. Your dentist will be glad to provide any information you may need during your dental implant consultation!
About the Practice
Our team at Dorian Tetelman, DDS is dedicated to providing personalized dental care in Manhattan. We use the latest dental technology, including digital X-rays and a CT Cone Beam scanner, to plan dental implant treatment. We partner with the best dental implant specialists in the New York City area to ensure the highest standards of care. If you're interested in getting dental implants in Lenox Hill, NY, please contact our office at 212-319-0090.