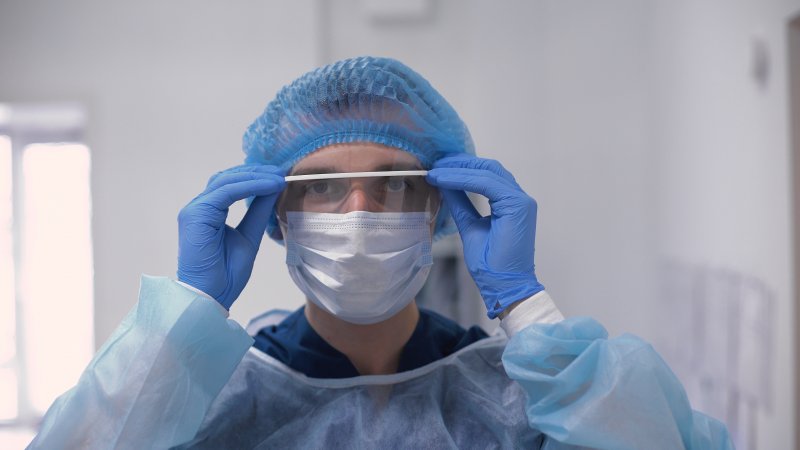 It's safe to say that COVID-19 has ushered in a whole new normal as professionals in every industry implement extensive measures to keep their clients and team safe. At your last dentist visit, you likely experienced some infection control procedures, like your dentist wearing a mask and asking you a few questions before getting started. However, this is just a fraction of what you can expect at your next visit. Below are the steps that your dentist is taking to practice dental safety during COVID-19..
Preventive Measures
When combating a virus as contagious as COVID-19, it is important to be proactive. While your dentist has always practiced infection control during your appointment, you can now expect to see an elevated level of caution before you even step into the office. Here are a few preventive measures dentists are implementing:
Screenings for patients – In an attempt to lower the likelihood of someone with COVID-19, or any other contagious virus, from entering the office, dentists are implementing extensive screenings for patients. In addition to asking those who are sick or experiencing symptoms to stay home, patients will also receive a pre-appointment questionnaire to alert the team of any warning signs.
Limiting appointments – Pre-COVID-19, sitting in a packed waiting room before your appointment wouldn't be unusual. However, with the importance of social distancing and limiting large gatherings, dentists are restricting the number of patients they see in one day. This will allow ample time for patients to get the care they need without worrying about coming into contact with other people.
Safety champion – In addition to each member of the team receiving supplementary training on safety protocols and infection control, one person will be assigned each day to be the designated safety champion. This person will oversee the staff and patient flow to confirm that all guidelines are being followed to ensure maximum protection.
What Can I Expect During My Appointment?
While social distancing guidelines are important to flatten the curve, you will inevitably come within 6 feet of your dentist. In fact, it will be more like 6 inches! That is why dentists are taking these extensive measures:
Health checks for staff and patients – A high temperature is one of the symptoms that has been linked to COVID-19. Therefore, daily health checks are required of all staff members before entering the office.
Social distancing waiting rooms – To control foot traffic and the potential spread of germs, waiting rooms have been redesigned with social distancing in mind. While some have implemented virtual waiting rooms, others have asked patients to not arrive early to their appointment and call once they park.
No handshakes or hugs – Although your dentist and their team are beyond happy to have you back in their office, contactless greetings are required to limit the spread of bacteria and viruses.
Additional PPE – Before this pandemic, you would expect to see your dentist in gloves and a mask. However, new guidelines recommend that face shields and long scrubs are also used to protect the eyes and limit the amount of potential skin-to-air contact.
Post-Appointment Protocol
Even after your appointment, there is still work to be done to fight against the spread of germs. Once your visit is over, your dentist will follow the below protocol to keep the following patients safe:
Frequent cleanings – In addition to deep cleanings every evening, the chairs, doorknobs, and countertops will be wiped down thoroughly between each patient.
Clothing best practices – While some PPE is disposable, reusable clothing, like scrubs, will be changed out of at the office before heading home.
Virtual follow-up appointments – In an effort to limit the number of people physically coming in and out of the office, expect to have virtual follow-up appointments with your dentist.
With these best practices in place, we can all do our part in flattening the curve and keeping our community safe!
About the Author
After receiving his Doctoral of Dental Surgery Degree from New York University, Dr. Tetelman opened a dental practice dedicated to providing personalized care backed by the latest technology. With his eco-friendly office and modern approach to dentistry, he has built a reputation for delivering unparalleled service to the people of New York, New York. For information on the extensive measures he's taking to safely reopen, visit his website or give them a call at 212-319-0090.