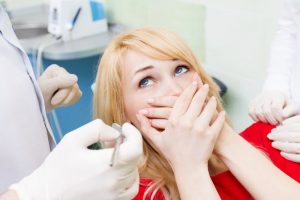 Do the words "root canal" send a shiver up your spine? Many people are so afraid of the misinformation, bad reputation, and false rumors surrounding this procedure they put it off even if it's recommended by their trusted dentist. However, while avoiding this treatment may save you temporary discomfort now, it could cost you much more pain and damage to your smile later on. Read on to find out why you should get that root canal in Lenox Hill right away, and what might happen if you don't.
Why Do I Need a Root Canal?
Your teeth are encased in a hard shell of enamel that protects the sensitive tooth pulp and nerve underneath. If the enamel is broken and these layers are exposed, they may be attacked and infected by bacteria. If this happens, a root canal is needed to clean out all the decaying and painful tissues within your tooth. This removes all traces of the infection while preserving as much of your natural tooth structure as possible. Then, the empty space is filled with a warm, rubbery substance, a dental crown is placed on top of it, and the tooth is as good as new!
What Happens if I Don't Get a Root Canal?
Not only is an infected tooth in need of a root canal very uncomfortable, but it will only get worse over time. That's because unlike other parts of your body, your tooth is unable to fight off the bacteria and heal itself. As the infection grows, it can spread to other teeth. It can even make its way to your jawbone, where it can cause permanent damage and destroy the connective tissues that hold your pearly whites in place!
Why Shouldn't I Be Afraid of Root Canals?
Root canals have one of the worst reputations in dentistry. However, they've come a long way with the help of modern techniques and state-of-the-art technology. Thanks to advancements in sedation dentistry and anesthetics, your highly trained dentist will make sure you're as comfortable as possible throughout the entire procedure. It's very unlikely that you'll feel anything at all. Afterwards you may experience some slight soreness, but you can manage any discomfort with over-the-counter pain relievers before it goes away within a few days. In the end, most patients would be happy to tell you that getting a root canal is nowhere near as painful as needing one and avoiding it!
So if you need a root canal, there's no need to put it off and endanger your oral health. This pain-relieving procedure will help you enjoy your happy, healthy smile again in no time!
About the Author
Dr. Dorian Tetelman of New York, New York is dedicated to helping you achieve a smile that improves the quality of your life and overall health. He's been practicing excellent dentistry since 1995 and has extensive experience in full mouth reconstruction and various complex dental treatments. If you're suffering from a severe toothache, you may urgently need a root canal, so call us right away for an emergency appointment. If you have more questions or concerns about root canals, he can be reached via his website or at (212) 319-0090.