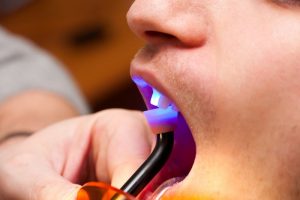 When you look in the mirror or at a picture of yourself, are your eyes drawn to the little imperfections in your smile? Do you have chips, cracks, gaps, or stains in your teeth that make smiling confidently virtually impossible? If so, you might be interested in a procedure called cosmetic bonding. With this quick and easy treatment, you can say goodbye to minor flaws in your smile. Keep reading to learn more about cosmetic bonding in Lenox Hill and why you should invest in it.
What Is Cosmetic Bonding?
Cosmetic bonding, also sometimes called direct bonding, involves your dentist applying a composite resin (the same material used in tooth-colored fillings) to areas of your teeth that are stained, fractured, or otherwise imperfect. This material is highly malleable, so it can be molded to your teeth to achieve the desired shape and size. It can also be customized to match the color of your existing enamel and blend right in with the rest of your tooth.
Advantages of Cosmetic Bonding
Bonding comes with several benefits over other cosmetic procedures, such as:
1. Time
Some procedures, like veneers and crowns, can take several appointments to restore your teeth. Bonding, on the other hand, can often be completed in just one visit to your dentist's office.
2. Cost
Bonding is one of the least expensive cosmetic treatments available.
3. Conservative
Very little, if any, tooth enamel has to be removed to make room for the bonding material, especially when compared to veneers and crowns.
How to Care for Your Bonded Teeth
Once your teeth have been bonded, it's actually quite easy to maintain them. Treat them essentially the same as you would your unbonded teeth. Brush twice a day for two minutes at a time, floss every night before bed, and visit your dentist every six months for a checkup to examine your bonding material and see if it needs a touch-up. Composite resin is susceptible to staining, so keep habits like smoking and consuming richly pigmented foods and drinks to a minimum. Otherwise, your bonded areas will stand out in your smile.
Cosmetic bonding is a great way to correct minor aesthetic flaws in your smile in a quick, easy, and cost-effective manner. If you have imperfections in your smile, ask your dentist if cosmetic bonding is the right treatment for you.
About the Author
Dr. Dorian Tetelman has been practicing dentistry for almost 25 years now, ever since he graduated from NYU College of Dentistry in 1995. Known for his ability to help patients feel at ease in the dental chair, he is skilled in a wide variety of areas of dentistry, including dental implants, Lumineers, laser dentistry, and of course, cosmetic bonding. To learn more, you can contact his office at (212) 319-0090.