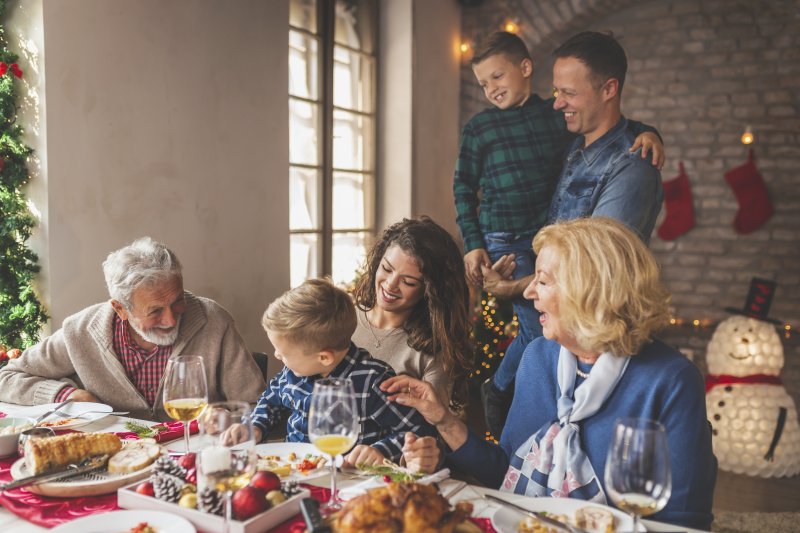 Just like any holiday season, it's likely that you'll be spending much more time with the family than usual, especially extended family members that are coming into your hometown. After dinner is over, the dishes are done, and everyone is relaxing with their desserts and after-dinner drinks, someone will likely say, "Let's take a family photo!" Depending on how you feel about your smile, this situation may make you feel excited and proud or nervous and apprehensive. With help from a cosmetic dentist in Lenox Hill, you can make sure it's always the former.
Fast and Effective Teeth Whitening
When you're eating cranberry sauce on Thanksgiving or enjoying a robust after-dinner wine afterwards, you should know that their richly-pigmentated properties can easily stain teeth. Thankfully, there is a way to address these stains, even after they've already settled into your enamel.
You may have heard of teeth whitening in the past simply because of how popular it has become in recent years. Not only are the professional-grade bleaching gels incredibly effective at whitening teeth, but it only takes one appointment to complete treatment. Many offices offer both in-office and take-home whitening as well.
Affordable Cosmetic Bonding
Would you like to cover chips and cracks in your smile, but don't want to spend large amounts of money on porcelain veneers? You're likely spending plenty of money on gifts for your family already, so a more affordable option might be needed.
That's where cosmetic bonding comes in. In just one appointment, your dentist can hide cosmetic damage in teeth and even gaps with a composite resin material. After being sculpted and shaped around your tooth, the resin is hardened instantly, effectively blending in with your existing tooth enamel.
Comprehensive Gum Recontouring/Crown Lengthening
In some cases, a smile is not negatively affected by imperfect teeth, but the gum tissue holding those very teeth in place. Gum tissue can easily become uneven or overgrown, typically as a result of genetics, but that doesn't mean you should have to settle for it.
Gum recontouring is essentially designed to remove excess gum tissue from teeth to show more of your natural tooth enamel. This results in a fuller and larger smile and even gum line.
Natural-Looking, Metal-Free Restorations
Whether you need to have a tooth repaired or a previous restoration replaced, you don't have to settle for silver-colored fillings or crowns to get it done. Tooth-colored options are possible when the dentist utilizes ceramics and composite resin. These materials can be custom-shaded to match your existing smile exactly, ensuring that you'll feel confident in any situation.
Want to make your next family photo one that you'll want to remember? Consider scheduling an appointment with a cosmetic dentist in Lenox Hill this holiday season!
About the Practice
The dentists at Dorian Tetelman DDS are proud to offer multiple cosmetic treatments designed to make your smile look exactly the way you want it to. They all have many years of practice experience and are more than happy to address your cosmetic concerns so you can feel confident at your next holiday gathering. To get started, you can contact them through their website.