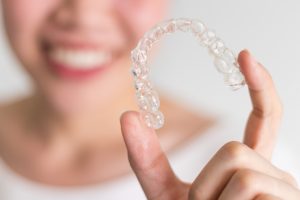 Few people are born with a naturally straight smile. Although most people have their alignment issues corrected during childhood, not everyone has the same opportunity. If you didn't get braces as a child or you suffered regression after a previous treatment, you don't need to turn to brackets and wires to get the smile you want. Instead, you can enjoy the clear choice in orthodontics with Invisalign in Lenox Hill. To save time and money, you may want to only correct one arch, but your dentist will likely advise against it to prevent new problems down the road.
How Does Invisalign Work?
Metal braces use a series of brackets and wires to pull the teeth into position by making small adjustments every few weeks. Invisalign uses a far different method than traditional braces. A series of clear plastic aligners are created using an impression of your mouth and 3D technology.
Each aligner applies continuous pressure on your teeth to gradually move them into position. You wear each aligner in the series for at least 22 hours per day. You switch to a new aligner after about 1 week. On average, it takes 12 months to finish your series.
Can I Only Get Invisalign on the Top or Bottom?
It is normal for alignment concerns to vary between the top and bottom arch. One may have more significant issues than the other. As a result, you may want to treat only the top or bottom. Unfortunately, this is rarely a good idea. Single arch treatment is only recommended for certain cases because it can create problems with your bite.
Changing your bite can lead to a new list of complications that can impact your oral health and functions. You may even develop jaw pain from uneven pressure on your temporomandibular joint. Your aesthetic concerns may also change. Although your teeth become straighter, it can cause your lower jaw to rest in an uncomfortable and unattractive position.
Instead, your dentist in Lenox Hill will likely recommend you treat both the top and bottom arch to ensure a straight, functional smile.
Is Invisalign Right for Me?
Now, Invisalign is effective for resolving several bite and alignment concerns; however, you still need a consultation with your dentist to ensure it's right for you. Your dentist performs a comprehensive evaluation to assess the alignment of your teeth and bite. Images, X-rays, and impressions are also used to determine the extent of your orthodontic needs to create a customized treatment plan. You'll enjoy a personalized approach to get the straight smile you've always wanted.
About Dr. Dorian Tetelman, DDS
Our Manhattan dental practice provides personalized treatment plans to help our patients achieve healthy, beautiful smiles. Besides general dentistry, our team offers many areas of specialty, including Invisalign. If you are ready to correct your bite and alignment concerns, it's time to see if the clear choice in orthodontics is right for you. Contact our office today to schedule a consultation.