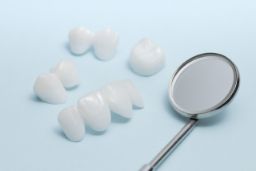 If you took a poll to ask people who have gotten traditional dental crowns what they thought of the experience, there's a good chance that they would use the following words to describe it: inconvenient, uncomfortable and disappointing. Crowns are wonderful for restoring teeth that have been badly damaged by decay or fractures, and the long-term benefits are well worth it. But wouldn't it be great if you could reliably restore your tooth without the hassle of a regular crown? With same day crowns in Lenox Hill – you can. Find out more about the benefits of this technology and why so many people prefer it in this blog!
What Are the Benefits of Same Day Crowns?
The most obvious benefit of same day crowns (also called CEREC), is that they only require one visit. But that's not the only advantage:
Digital impressions – Traditional impressions are messy and uncomfortable. With CEREC, impressions are taken with a tiny camera that precisely scans the dimensions of your teeth. In addition to being much easier, these impressions are also more accurate.
Only one anesthetic injection – Some patients like to be numbed for both visits when they get a dental crown. With a same day crown, you'll only need to be numbed once.
No need to wear a temporary – Since you'll go home with your completed restoration the same day, you won't have to deal with a temporary crown that has a fair chance of breaking or falling off while you wait for your permanent crown.
With all these benefits, it's no wonder that 85% of patients prefer a one-visit crown – and 2 out of 3 would even travel further to get their crown in one appointment!
Are Same Day Crowns as Strong as Traditional Crowns?
Made of either ceramic or zirconia, CEREC same day crowns have been shown in over 250 studies to be as strong as traditional crowns. They have a 95% long-term success rate, so you can look forward to many years of great oral health with your new crown.
In fact, this technology has been so successful that one person is treated with a same day crown every 5 seconds around the world. If you need a crown from a dentist in Lenox Hill but dread the process of getting one, why not take advantage of what CEREC has to offer?
You get the same great quality dental crown with a lot less hassle. It's a win-win situation!
About the Author
Dr. Dorian Tetelman is a general, cosmetic and restorative dentist in Lenox Hill who is always on the lookout for technology that allows him to offer his patients great results in a more convenient and comfortable way. If you need a crown and would like to know if a same day crown would be right for you, he can be reached via his website or at (212) 319-0090.