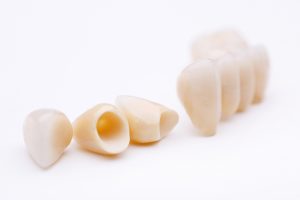 Has your dentist recently recommended that you receive a dental crown? If so, your first thought may be of the long treatment process. You do not have time for multiple appointments. To avoid the hassle, you are tempted to delay getting the restoration you need. What if you could get a crown in just one day? Now you can with same-day crowns in Lenox Hill.

Skip Uncomfortable Impressions
In the past, you would need to hold a messy, foul-tasting material in your mouth to take an impression of your tooth. Not only is the process of traditional impressions uncomfortable, but it may not be an option for those who have severely damaged teeth. Now, you can have the necessary measurements taken using 3D scans.
With same-day crowns, there is no need for a traditional impression. Instead, 3D scans of your mouth are taken to create highly detailed images. Your dentist in Lenox Hill can view the scans on large screens to create a customized treatment plan that meets your exact needs.
Remove Room for Error
With a traditional crown, the impression of your mouth would be sent to an off-site dental lab to create your restoration. It was not uncommon for it to be sent back to the dental office with an incorrect fit. To correct the issue, it would have to be sent back to the lab, further lengthening your treatment.
Same-day crowns remove room for error to ensure the restoration you receive is correct the first time. The digital impressions integrate with CAD/CAM software. This allows your dentist to design the crown to meet your exact needs. It will match the size, shape, and color you need to ensure that it is right the first time.
Skip the Temporary Crown
With traditional crowns, you would need a temporary restoration placed over your tooth to protect it while you wait for the dental lab to finish your permanent one. In some cases, this could take several weeks. After your permanent crown was ready, you would need to return to your dentist to have the temporary one removed and the final one bonded in place. You can skip this entire process with same-day crowns.
Your restoration will be made in-office. The information specified in the CAD/CAM software is sent to an in-office milling machine. It will then cut your crown from a single block of all-ceramic material in about an hour.
There is no need for a temporary crown or a second appointment. You will walk out of your appointment with the restoration you need in just one day.
Experience the Difference Today!
If you need a restoration, it is time to experience the difference with the latest technology for same-day crowns.
About Dr. Dorian Tetelman
Since 1995, Dr. Dorian Tetelman has provided the most advanced dental care to the community. He embraces the latest innovations in dentistry to provide comprehensive, convenient solutions that cater to your lifestyle. With same-day crowns, you will get the high-quality restoration you need in one day. Contact our office today to schedule your consultation.