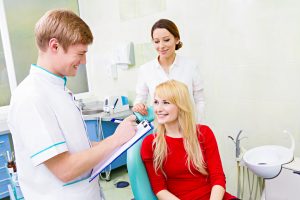 Have you been considering cosmetic dentistry, but you're just not sure where to start? You're not alone. Many patients want to brighten, straighten, or otherwise enhance their smiles, but they assume cosmetic dentistry is complicated, time consuming, or only available for the rich and famous. Today, dentists offer a variety of cosmetic dentistry options that make it possible for any patient to achieve the flawless smile they deserve. In this post, we'll discuss some of the most popular cosmetic dentistry treatments available and provide information to help you get ready for your cosmetic dentistry consultation.

Treatments to Consider
The first step to any cosmetic dentistry plan is calling your dentist to schedule a consultation appointment. During your consultation visit, the dentist will examine your smile, discuss your goals, answer questions, make treatment recommendations, and partner with you to create the ideal cosmetic dentistry plan. Some of the most popular cosmetic dental treatments you should consider during your appointment include:
Cosmetic bonding – a simple, one visit treatment that uses the same tooth-colored composite used for fillings. Bonding can be used to correct or conceal numerous chips, cracks, stains, and gaps in teeth.
Teeth whitening – easily the most popular cosmetic treatment, there are a number of custom, professional whitening products you can use in the dental office or at-home to brighten smiles as much as ten shades.
Gum recontouring – if your smile looks gummy or your teeth look too short, this simple treatment to reshape the soft tissue can deliver the flawless smile you're looking for.
What to Ask During a Cosmetic Dentistry Consultation
When you visit a dentist for a cosmetic dentistry consultation, you should feel free to ask questions to ensure you feel 100% confident before beginning treatment. Some questions you should ask include:
Have you completed continuing education focused on cosmetic dentistry?
Can I see photos of your past cosmetic dentistry patients?
Do you use virtual smile design software that can show my potential results?
How long will my treatment take?
How often do I need to repair, replace, or touch up my results?
What does each treatment cost?
Do I need to change my at-home oral hygiene routine?
Meet Dr. Tetelman
Skilled Lennox Hill dentist, Dorian Tetelman, DDS, and his team of skilled dentists and dentistry professionals offer a wide array of cosmetic dentistry services to deliver picture-perfect smiles for any patient. From the most basic teeth whitening treatments to complete smile makeovers, our experienced dental team is here to create your dream smile quickly, comfortably, and affordably. Ready to get started? Call to schedule your cosmetic dentistry consultation in our state-of-the-art Lenox Hill dental office. We offer cosmetic treatment planning using the latest virtual smile design tools to ensure you will get the desired result.