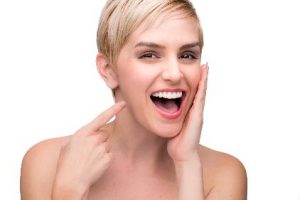 Have you always been bothered by the gap in your smile? If you feel embarrassed or self-conscious every time you see photos of yourself, that's no way to go through life! Why not consider one of the many cosmetic options you have for correcting your gap?
You may have thought that braces were your only choice, but you'll be glad to know that there are faster, easier and more affordable options! As a dentist in Lenox Hill, we've helped countless patients correct their gap. Keep reading to learn more about different procedures that can give you the gorgeous smile you've always wanted.
Porcelain Veneers
Porcelain veneers are very thin, strong, "shells" that are adhered to the front of the teeth. They're very stain resistant and look great for many years with a little care and maintenance.
Porcelain veneers are incredibly popular because they're such a wonderful way to cover a wide variety of flaws, including gaps.
To close the space, we would place slightly larger veneers on the two adjacent teeth on either side of a gap. They would be matched in shape, color and size to the rest of the teeth so that they blend in seamlessly with the smile.
Cosmetic Bonding
"Cosmetic bonding" refers to the use of white filling material on the front teeth. It's the same material that would be used to fill a cavity on a back tooth, so it's very strong and durable.
Bonding can be used to cover many smile flaws, including chips, cracks and gaps. For a gap, a small amount of bonding material is used to "fill in" the space between two teeth. After perfectly matching the color, the material is then smoothed and shaped so that it looks completely natural.
While this option looks great, it typically isn't as long lasting as porcelain veneers and is usually better for gaps that are quite small.
How Do You Know Which Option Is For You?
The best way to find out which procedure will serve you the best is to schedule a consultation with a cosmetic dentist in Lenox Hill. That gives us an opportunity to look at your individual needs and goals and recommend an appropriate treatment plan.
Also, we've invested in technology that allows you to see what the final result might look like to help you make the right decision. You'll have an opportunity to weigh in on your final result before we ever get started.
When it comes to achieving a beautiful smile, why not take advantage of all that modern dentistry has to offer? Never before have you had so many easy, reliable options!
About the Author
Dr. Dorian Tetelman and his team of associates know the impact that the right cosmetic procedure has on their patient's self-confidence and overall quality of life. They understand that everyone has unique needs and goals and always tailor their treatment plans to each patient. If you have any questions, they can be reached via their website or at (212) 319-0090.